It's about that time where you begin to transition some older tech habits into something a bit more robust. The pandemic has made everyone more confined to their homes with no exact measure as to when the outside will open back up. Here are some tech ideas you can use to make your work, play or social from home more enjoyable.
---
The Nanoleaf Essentials Bulb
I enjoy this little efficient bulb. It lights my room with some of the most beautiful colors in satisfying tones throughout my day. I utilize the features of this bulb via the Nanoleaf App (You can find it in the app store) and I also pair this app with the Home app from Apple. What makes this bulb so special to me is the Thread Technology it uses to communicate with Siri allowing the bulb to switch on and off with automated commands as well as voice commands.
When I leave my home my light will glow a lush purple color. When its 8pm the bulb will execute a "Scene" which lets me know both the time and that I need to begin my daily winddown routine. Another special feature I've noticed is this bulb does not get hot. I have it on daily and curiously I check to see if I can feel any heat and to my surprise, nothing.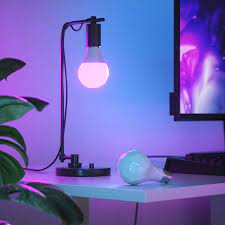 Nanoleaf Essentials A19 Bulb
Nanoleaf A19 Bulb
" class="kg-product-card-button kg-product-card-btn-accent" target="_blank" rel="noopener noreferrer">
Nanoleaf Essential A19 Bulb
I had to change where my saved data and gameplay data were stored.
iPad Air 4th Gen 256 GB
My history with an iPad is pretty extensive. I love the formfactor and possibilities to the levels in which you can conduct your business with this highly favored tablet. Now I will not get into the debate of if this can piece of Tech can replace your desktop, that I will not do because there are many use cases where certain things would apply depending on the type of user you are and your needs.
The 4th Generation (2020) iPad Air with 256 GB proves to be a beast at handling minute tasks daily from casual usage of viewing the web to more intense usage of making this post for you to read. I have a decent amount of apps for business productivity purposes & my music production, I have yet to put a major dent in the 256 GBs.
Pairing this with my 2nd Gen Apple Pencil & the Logitech Folio Touch I am able to switch into PRO mode in no time. On the go (When the outside opens back) I am sure I will have the convenience of continuing what I do at home behind my desk with ease.
Seagate 1TB External HD
I have an older model PS4, I'm talking 500 GB and loud fans the whole gig right? I'm also a member of the "PlayStation Plus" family collecting games that resonate with my interests and curiosities.
Space on my PS4 started to finally deplete. I needed to change where my games and saved data was stored. A friend of mine gifted me the "Seagate 1TB External Hard Drive"- A great gift indeed!
I enjoy this storage device quite well because it not only houses my games but it has saved me significant SPACE. I have yet a couple hundred GB to fill this HD as well as my PS4 Storage on board which is nothing but general apps and programs. Quiet device no fans and it even has a light to notify you of connectivity.
---
Whether I was changing the lighting for my next squad meeting on Zoom or planning my to-do list, reviewing email & producing posts for this blog, I feel good. I know I am part of a small community that uses an ipad as their daily driver. I like a challenge and the method of having my work executed with cloud computing excites me even more because how readily available technology is to me.
I wish to grow with you as I share my journey in Tech.
---
Technology has to be custom to you. You have to want to "Tech IT Personal" because not everyone's journey is the same in this. My goal is to share something that at least one person can learn from about Tech, became stronger in their Tech Game.